Micro Engineering Board
The Micro-Engineering Board is very simple: it is almost nothing but through-connectors (plus an identifying I2C EEPROM for EOMA-68 compliance). The PCB layout has been completed (as of 2013jun05) and a first prototype will be assembled very shortly.
It is suitable as a test bench, as well as being suitable for experimental purposes as well as having the potential to turn an EOMA-68 CPU Card into a very simple Desktop PC. An Allwinner A10/A20 CPU Card in combination with this board would have SATA, Ethernet, USB Host, HDMI, SD/MMC, USB-OTG and take 5V power, as well as having internal access to 8 pins of GPIO and an I2C interface.
IMPORTANT MODIFICATIONS TO 1ST REVISION
remove R2 THIS IS REALLY IMPORTANT FOR THE NEWER EOMA68-A20 BOARDS
short out D1 and MAKE SURE YOU USE EXACTLY 5.0V power
put a wire between pin 1 and pin 11 on the underside of the PCB, on J4.
Features
Ethernet RJ45 connector with built-in transformer
SATA connector
5V power connector (with capacitor and zener diode protection)
upright USB connector
44-pin DIL header with remaining EOMA-68 pins (RGB/TTL, GPIO and I2C)
All parts are orderable from Digikey and are through-hole (pins) so can be hand-assembled. The gerber files can be made available if anyone wishes to print a PCB.
Pinouts
These are the pinouts for the 44-pin connector:
Pin 1 GND
Pin 2 LCD R0
Pin 3 LCD R1
Pin 4 LCD R2
Pin 5 LCD R3
Pin 6 LCD R4
Pin 7 LCD R5
Pin 8 LCD R6
Pin 9 LCD R7
Pin 10 LCD G0
Pin 11 LCD G1
Pin 12 LCD G2
Pin 13 LCD G3
Pin 14 LCD G4
Pin 15 LCD G5
Pin 16 LCD G6
Pin 17 LCD G7
Pin 18 LCD B0
Pin 19 LCD B1
Pin 20 LCD B2
Pin 21 LCD B3
Pin 22 LCD B4
Pin 23 LCD B5
Pin 24 LCD B6
Pin 25 LCD B7
Pin 26 LCD CLK
Pin 27 LCD VSYNC
Pin 28 LCD HSYNC
Pin 29 LCD EN
Pin 30 I2C-SCL
Pin 31 I2C-SDA
Pin 32 GPIO 0
Pin 33 GPIO 1
Pin 34 GPIO 2
Pin 35 GPIO 3
Pin 36 GPIO 4
Pin 37 GPIO 5
Pin 38 GPIO 6
Pin 39 GPIO 7
Pin 40 RES1
Pin 41 UART_TX
Pin 42 UART_RX
Pin 43 GND
Pin 44 +5V
Case available
A case is available for the MEB, pictures and example here: http://www.gplsquared.com/eoma_boot/eoma_boot.html
Pictures
These are very early 3D CAD/CAM prototypes, done prior to the PCB layout (which is now slightly different)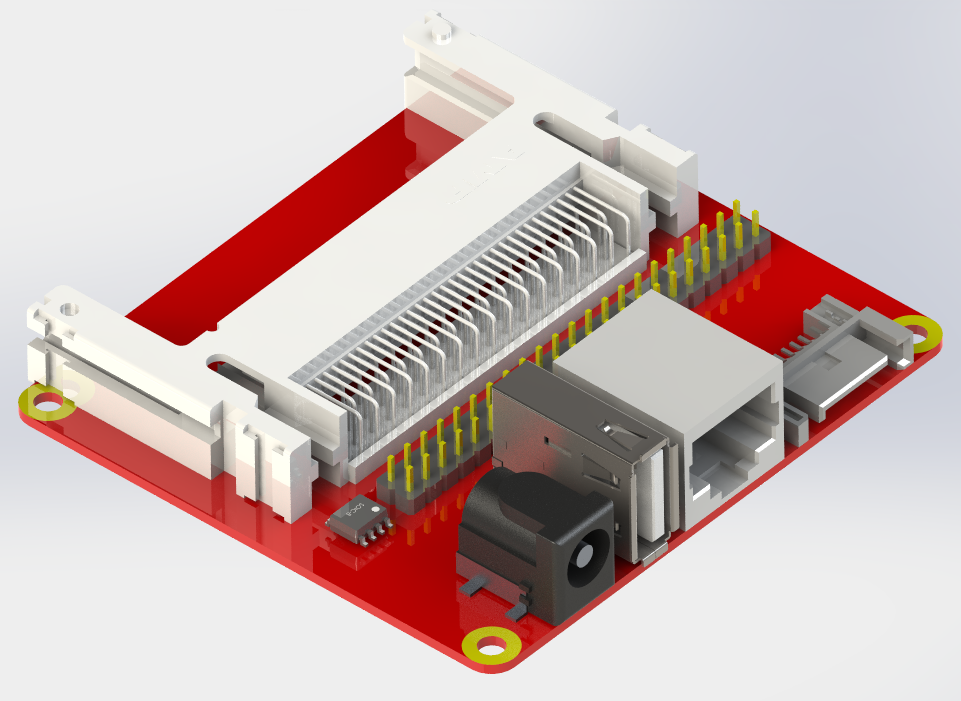 This image shows the early CAD/CAM of a Micro Engineering Board with an EOMA-68 CPU Card: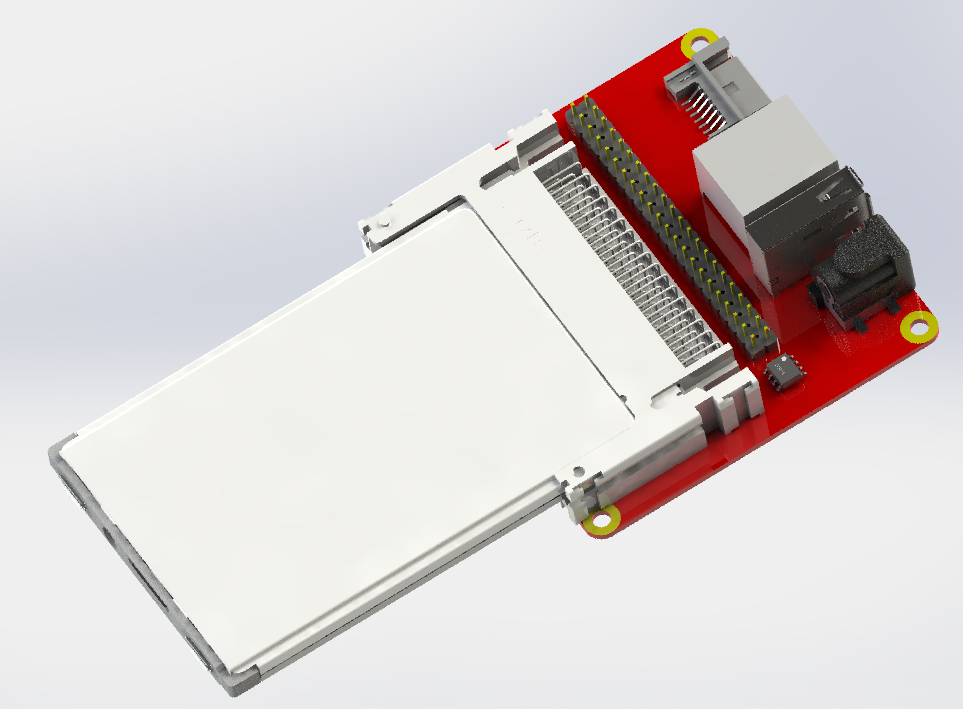 Here's the BOM on mouser.com: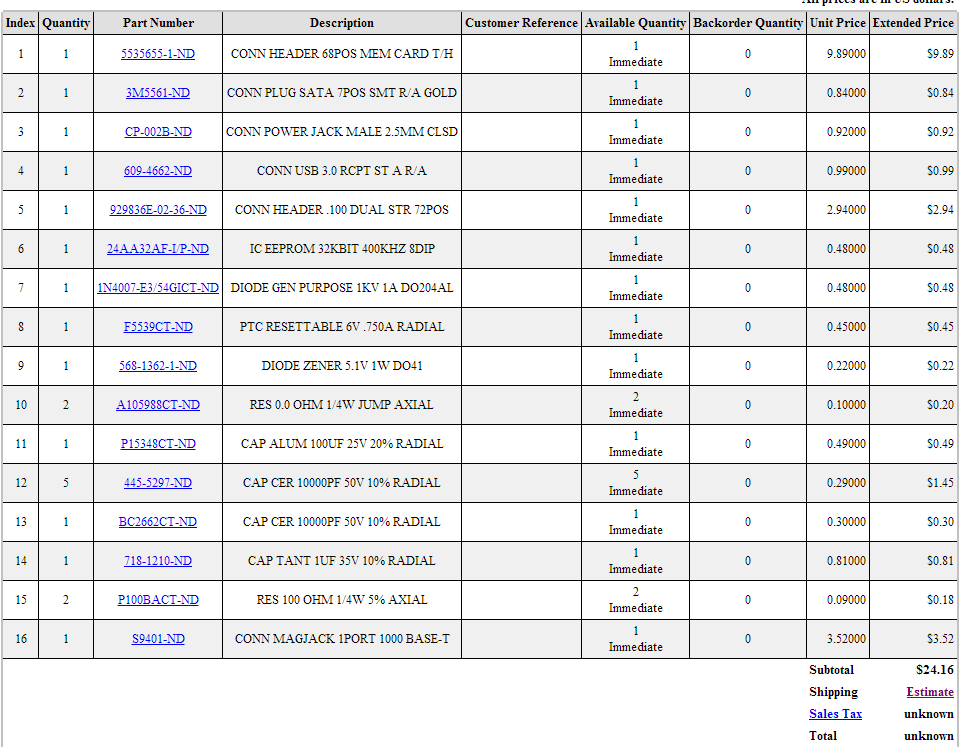 Finished item! Many thanks to Firemoth Industries and to Leo for the work here. It's amazing to see this coming together.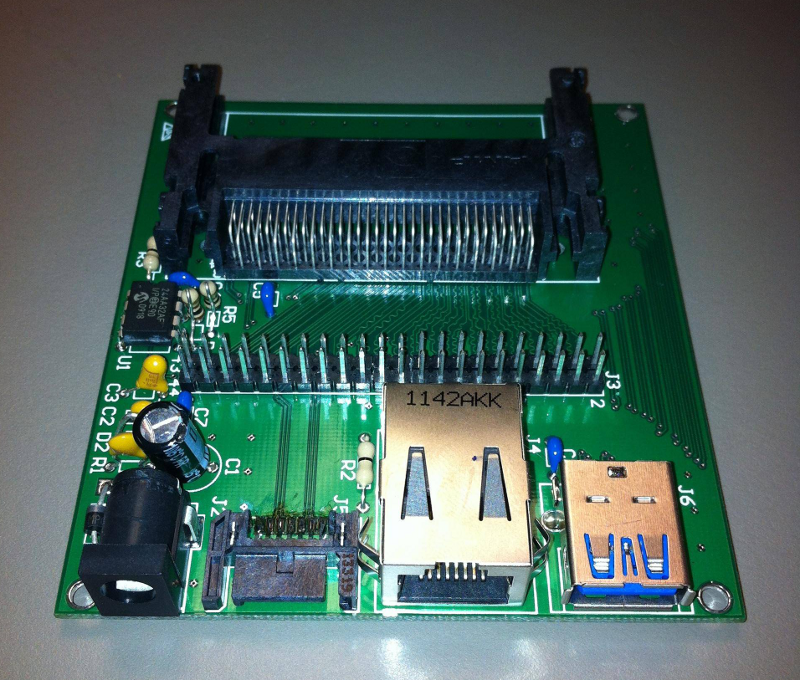 Picture of a suitable MEB case, at gplsquared: